Sharesight
Become a smarter investor.

Sharesight is an award-winning investment portfolio tracker used by over 400,000 DIY investors and finance professionals.
All your investments, in one place
Track shares listed on local and global exchanges, plus managed funds, ETFs, mFunds, listed bonds, cash & fixed interest, and unlisted assets.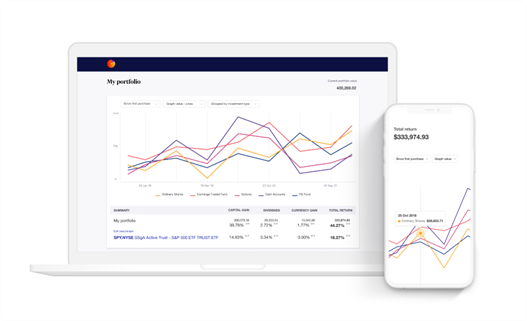 Performance & tax insights
Sharesight automatically calculates the performance of your overall portfolio and individual shares. Capital gains, dividends, and currency movements are all shown in dollars and annualised percentages. Get all the information you need for comprehensive performance reporting, plus taxable income (including franking credits), CGT, balance sheet preparation, and more.
Effortless setup
Setting up a portfolio is easy. Connect to your online broker and import all of your historical trading data within just a few clicks. Or import your trading history via CSV or by entering trades manually. Then sit back and watch as 20 years of historical data automatically records any dividends and share splits that occurred along the way.
Painless administration
Each time you trade, have your broker email over a copy of the PDF contract note. Sharesight will instantly record the transaction in your portfolio and save a copy of the file. Plus corporate actions and currency movements are automatically incorporated and included in your total position.
Special offer for ASA members:

Save 50% on an annual Sharesight subscription!
For more information, visit: https://www.sharesight.com/au/asa/
* Offer applies for new or existing free plan holders only and may not be combined with other offers. Offer subject to change at any time.