By Rachel Waterhouse, CEO, ASA
28 July 2022
A recent forum on capitalisation megatrends in public markets suggested that investing in such areas requires taking a long-term view, but there are always opportunities to find value. Read more here.
Last Wednesday I attended an event about capitalisation megatrends in public markets, presented by:  
Jun Bel Liu, Portfolio Manager, Tribeca Investment Partners;
Roy Chen, RC Global;
Paul Rayson, CEO, Hearts and Minds Investments; and
Niv Dagan, Founder & Executive Director at Peak Asset Management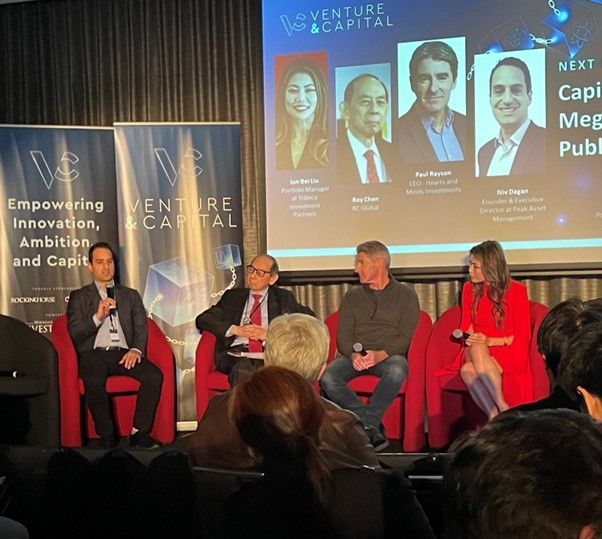 They discussed megatrends such as decarbonisation, clean energy, demand for chips, electric vehicles, and digitisation, and said that investing in such areas requires taking a long-term view. 
They also suggested that thematic ETFs provide exposure to megatrends when held for the long-term, and that, even with a downturn in the market, there are opportunities to find value. 
A company befitting a megatrend industry does not guarantee growth or returns for investors.

When deciding to invest, you should do you own research and only proceed if:
the Board has 'skin in the game';
the right people are in the management team;
the executive has a strong track record; and
culture supports strategic objectives.
You may also want to take guidance from Warren Buffet who suggests that you only consider companies that have a business moat in place.
This provides a competitive advantage, limiting competition, and ensuring better profit margins.  These factors usually translate into greater returns for investors over the long-term.
CSIRO's latest report, Our Future World, identifies seven global megatrends that hold the key to the challenges and opportunities ahead:
1. Adapting to climate change:

Natural disasters are expected to cost the Australian economy almost three times more in 2050 than in 2017, suggesting a more volatile climate with unprecedented weather events.
2. Leaner, cleaner and greener:

There will be an increased focus on potential solutions to our resource constraints through synthetic biology, alternative proteins, advanced recycling, and the net-zero energy transition – by 2025, renewables are expected to surpass coal as the primary energy source.
3. The escalating health imperative:

The post-pandemic world has exacerbated existing health challenges posed by an ageing population and growing burden of chronic disease, and there has been an uptick in psychological distress and antibiotic resistant superbugs.
4. Geopolitical shifts:

Disrupted patterns of global trade, cybercrime, geopolitical tensions, and growing investment in defence are leading to uncertainty.
5. Diving into digital:

The pandemic-fuelled a boom in digitisation, with teleworking, telehealth, online shopping, and digital currencies becoming mainstream, and more than forty percent of Australians now regularly work remotely.  The future demand for digital workers expected to increase by 79% from 2020 to 2025.
6. Increasingly autonomous:

There has been an explosion in artificial intelligence (AI) discoveries and applications across practically all industry sectors over the past several years.
7. Unlocking the human dimension:

The level of trust in public institutions, while high during the pandemic, has now dropped significantly, and the community is pushing for more transparency, fairness, and good governance from those who lead us.
This report may be a good tool to support you with identifying good future industries for your investments. You can download a copy of the report here.