By Fiona Balzer, Policy and Advocacy Manager, and Damien Straker, Advocacy Coordinator
9 December 2022
AGM Season
We are lodging a submission on Treasury's Consultation on Improving the integrity of off-market share buy-backs raising our concerns about continued piecemeal changes to tax and retirement incomes legislation, and calling for a holistic review of both.
While not yet at a close, with our final company meeting for the year being Link's EGM on 23 December, the AGM season is almost complete.
We couldn't do this without our company monitors who we thank immensely and wish a wonderful end of year holiday and Christmas season.
Strike Count for ASA monitored companies
Company/Against vote on remuneration report
Santos                                                                 25.32%
Cleanaway                                                        25.49%
Goodman Group                                           28.91%
The Star Entertainment Group                   30.11%
ASX                                                                      30.52%
Link Administration Services                     30.66%
AGL Energy                                                       30.69%
Newcrest                                                            36.40%
GUD                                                                     41.10%
Blackmores                                                       43.35%
Upcoming company meetings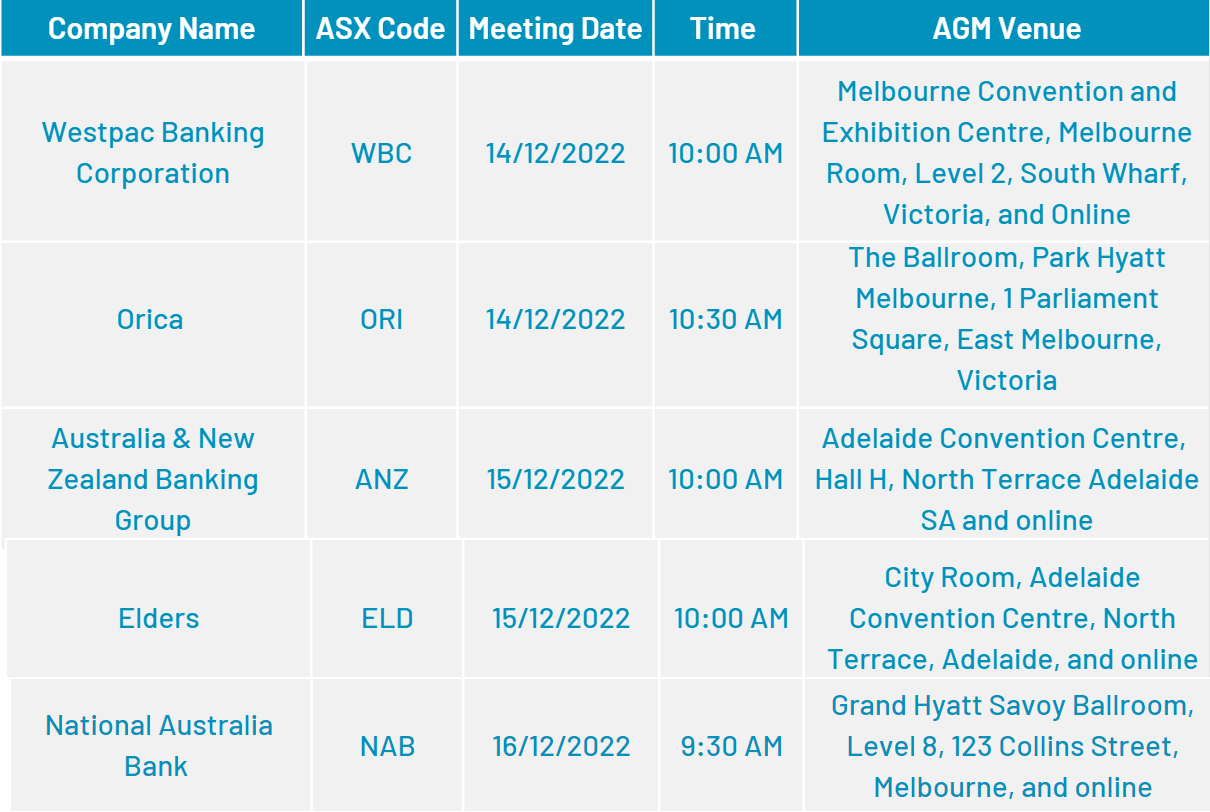 Orica (ORIG) AGM  
There is nothing of great controversy listed for the meeting, although Orica has once again had write downs associated with exceptional items, which have materially reduced a strong UPAT to a slim statutory profit of $60 million. The largest of these significant items related to the decision to exit our operations in Russia given the difficult operating environment, the significant decline in the local economy in Turkey, and the flow on impacts across Europe, Middle East and Africa region, with the war in Ukraine coming on top of COVID-19 impacts.
While many of these exceptional items were outside the direct control of Orica, it is concerning that this is the fifth year in a row that Orica's reported downgrades exceeding $100 million each year (with cumulative down-grades of $3.1 billion in the last 8 years).
Despite some winding back of the LTI from 215% to 200%, in 2021, we still consider the package in total is too generous for a company of this size and complexity. The take home pay has lifted substantially this year despite the fall in total shareholder return (TSR) and we will vote against the remuneration report or grant of equity.
We look forward to the promised review in 2023, and encourage the company to introduce a gateway of positive TSR to the relative TSR hurdle.
Read the full voting intentions report for ORI here.
Link Administration Services EGM (LNK) AGM

The Link Group board is proposing to distribute all of its 38.49% shareholding in PEXA Group Limited (PEXA) to Link shareholders. If approved, eligible Link Group shareholders will receive an in-specie distribution of one PEXA share for every 7.25 Link Group shares held at the record date. They will retain their existing Link Group shares. This will be carried out by a capital reduction, which may be accompanied by a dividend. This EGM is to seek shareholder approval for this proposal.
This resolution is commercial in nature. Shareholders who wish to appoint the Australian Shareholders' Association as their proxy are urged to read the documentation and give a directed vote that takes into account their individual circumstances. Remember to read Section 5 on the taxation implications and what will occur if the expected class ruling from the ATO is not approved. Noting the Link shareholders will directly own the PEXA shares once held via their Link shareholding if this resolution is approved, open proxies will be voted in favour of the resolution.
Read the full voting intentions report for LNK here.

In case you missed it
Read the full voting intentions report for WBC
Read the full voting intentions report for MFG EGM
Read the full voting intentions report for ANZ AGM and Scheme meeting
In relation to the re-election of Ms Sarah Halton, we are undecided given her workload appears considerable and we will seek clarification at the AGM.
Read the full voting intentions report for ELD
Read the full voting intentions report for WBC
Read the full voting intentions report for NAB