By Fiona Balzer, Policy and Advocacy Manager, and Damien Straker, Advocacy Coordinator
26 August 2022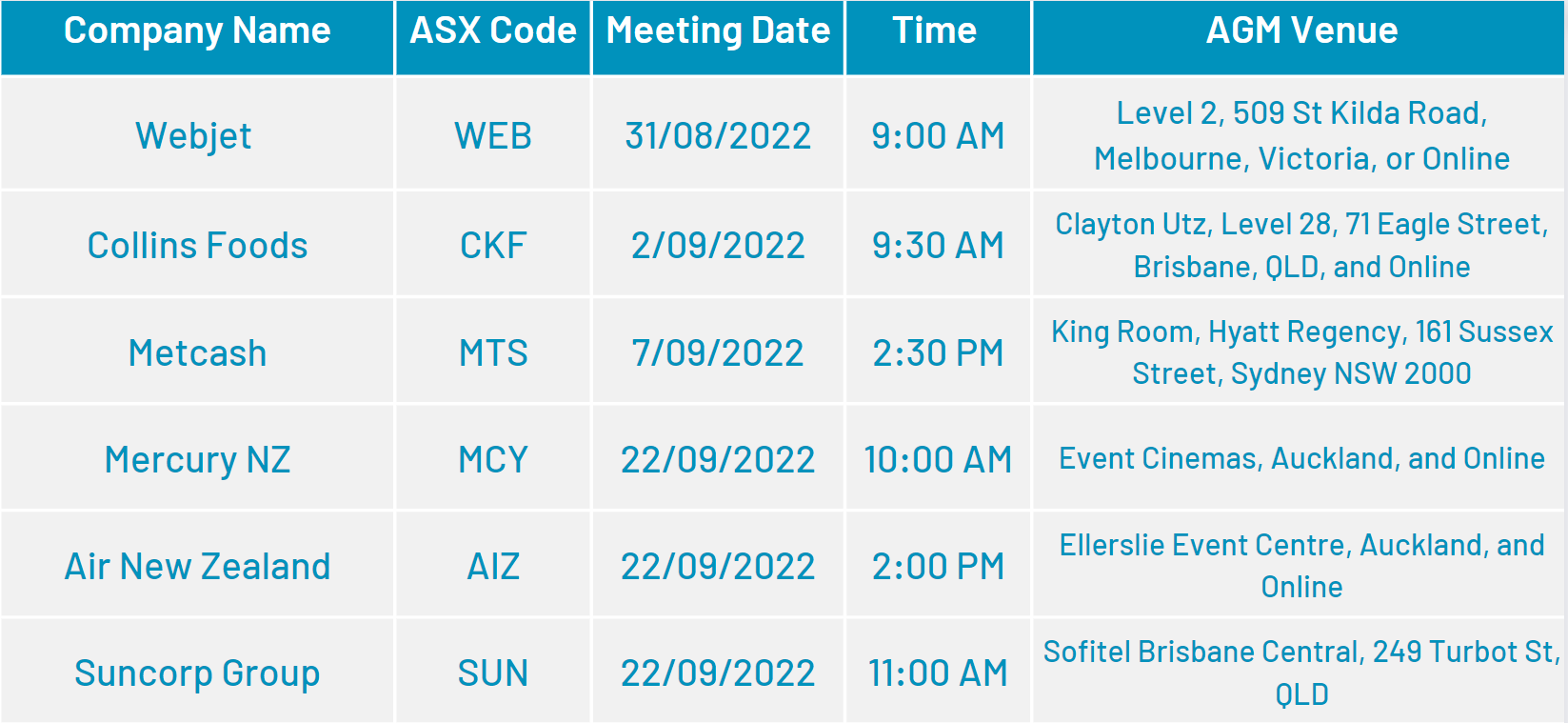 As reporting season draws to a close, the main-AGM season is starting to ramp up. This is the main event for ASA and our company monitoring, and anticipation and preparation is building.
As many of us know, listed companies must report their financial results to the ASX within 60 days of their year end and hold their annual meeting of shareholders (AGM) within 5 months of year end. The notices for listed company AGMs are issued at least 28 days before the AGM date, so we will get an idea of how the AGM season will unfold in the next four or five weeks.
The financial results have been mixed, some strong, some weak. Given the current uncertain economic conditions, shareholders will be eager for indications of how the first quarter is progressing and will welcome outlook statements that shed light on the impact of that uncertainty.
We have published our reports for the upcoming AGMs of Collins Foods Limited (CKF) and Metcash Limited (MTS). We will be voting open (undirected) proxies in favour of the resolutions at the meetings.
Our ASA company monitor for ALS Limited (ALQ), Kelly Buchanan, was pleased to attend the the hybrid AGM (Physical location and virtual) in person and has submitted her AGM report. We voted against the re-election of Mr Kadia, with other shareholders also expressing their concern about his workload and consequently the time he has to devote to the company (32.78% against vote).
Other Company News
Ramsay Health Care (RHC) shareholders were expressing frustration to ASA on the lack of any news on the non-binding indicative proposal, from a consortium of financial investors led by KKR (the Consortium), since April 2022 when the confidential approach was leaked to the media. Shareholders were calling out for directors of Ramsay to end their uncertainty.
And Ramsay Health Care has delivered, providing a couple of updates on the non-binding indicative proposal, after releasing its financial results for the year ended 30 June 2022 on 25 August 2022.
The update dated 26 August, states the initial indicative proposal has been withdrawn, but the alternative proposal remains. The alternative proposal in general is for A$78.20 cash; and approximately 0.22 Ramsay Santé shares, for each share in excess of 5,000 shares held (and an option to elect to receive $88 less dividends declared or paid after 31 January 2022 in cash, for the first 5,000 shares held).
The Ramsay Board repeated its unanimous view that the alternative proposal is meaningfully inferior to the Consortium's Indicative Proposal, and stated shareholders don't need to take any action in relation to the alternative proposal at this time. In forming this view, the Ramsay Board had regard to both the lower implied value relative to the all cash proposal, as well as structural challenges, execution complexity and the low liquidity of Ramsay Santé shares.
Long investing experience has taught me to be patient with any corporate actions such as takeovers and even more so with non-binding offers. While I have no direct exposure to Ramsay Health Care shares, this situation has been a healthy reminder that offers may come to fruition or not and generally will take months to progress. ASA expects directors will ensure shareholders are informed of important dates to look out for updates, but until you have the documentation with firm meeting dates a corporate action is possible rather than probable!