By Fiona Balzer, Policy and Advocacy Manager, and Damien Straker, Advocacy Coordinator
14 October 2022
Upcoming company meetings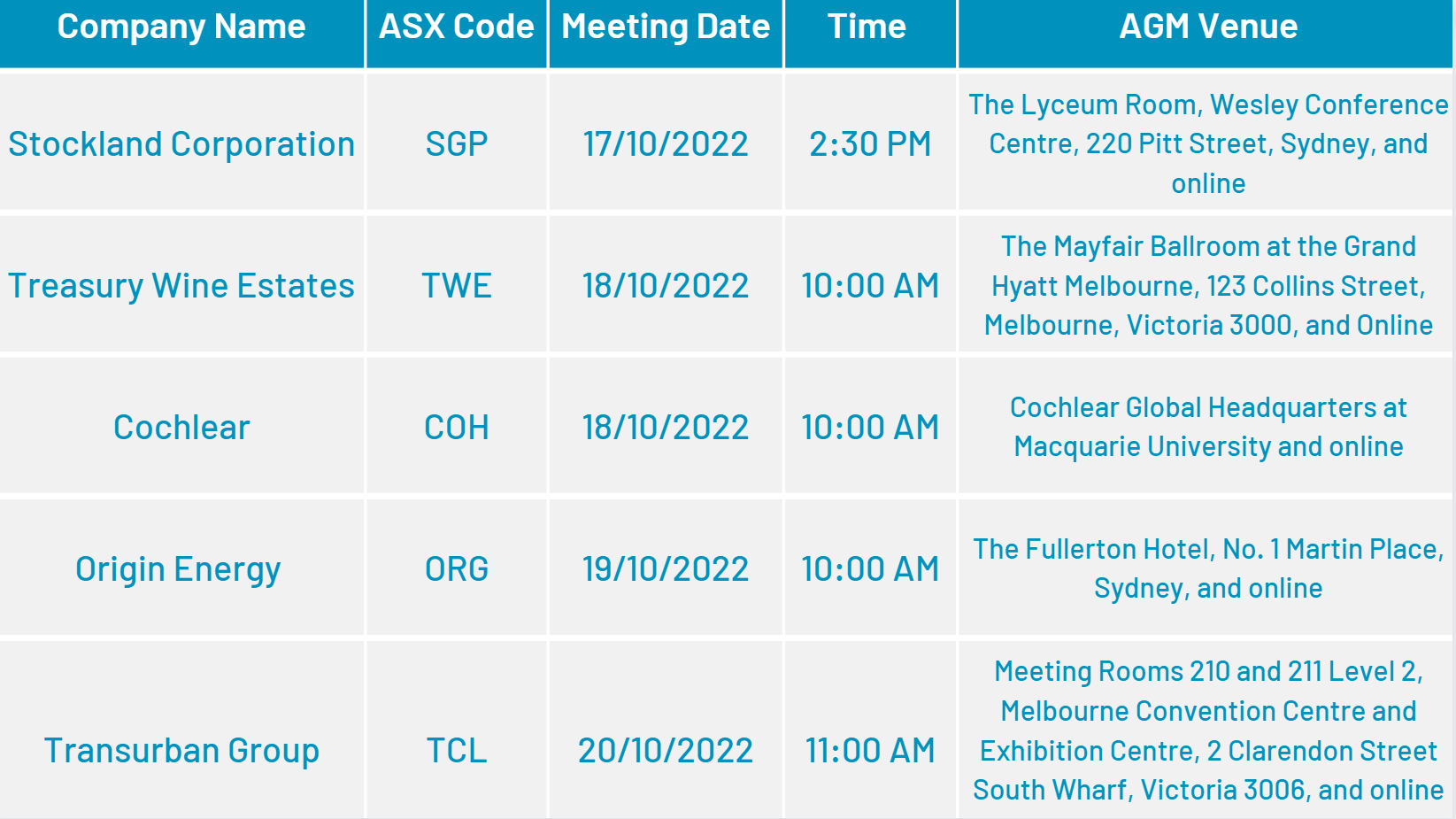 ASA will attend more than 30 AGMs next week, including those shown in the table above and Brambles, APA Group, Magellan, Blackmores, Healius, Perpetual, Insurance Australia Group, Cleanaway and Worley.
We suggest you refer to the full list of upcoming AGMs here. Voting intention reports will be available approximately two weeks prior to the AGM date.
Origin Energy (ORG) AGM

Origin's Integrated Gas business had a good FY22 with strong production and higher sales prices due to increasing global demand for LNG. On the other hand, its Energy Markets business continued to struggle with a range of challenging local issues including coal supply shortfalls to its Eraring Power Station. Origin's underlying profit figures were somewhat dwarfed by the massive swings in derivative values, one off divestments and impairments.
While ASA prefers to focus on statutory profit as impairments are often losses attributable to shareholders but from another financial year, the total shareholder return for the FY22 was positive with a higher share price and dividend by end of financial year. We expect shareholders will be happy with that.
We will vote open proxies in favour of approval of the Climate Transition Action Plan (CTAP). We note that this is an "advisory" resolution that is being framed as an opportunity for shareholders to discuss and provide feedback on the CTAP. While we support Origin's efforts to commit to a net zero future, we are somewhat concerned that the investments required to achieve the 2030 target have not been fully identified and, with project lead times generally extending within the renewable industry, the targets will be difficult to achieve by 2030. We expect Origin to provide more details in coming years
Read the full voting intentions report for Origin Energy here 
Woolworths (WOW) AGM  
We will support the board resolutions to be put to shareholders at the AGM. Woolworths Board is well structured with a useful mix of experience and skills, with active renewal process. The Chair, Gordon Cairns, and NED Siobhan McKenna will retire from the Board at the end of the 2022 AGM. The new Chair will be Scott Perkins who has been on the Board since 2014. The Board has appointed a small committee, to conduct a search for two new directors over the next several months.
Generally, the group's remuneration policy is sound except that long term incentive is vested after three years, rather than four or more years as per ASA guidelines.
Read the full voting intentions report for Woolworths here 
GUD (GUD) AGM  
In an effort to modernise GUD's previous structure and with the advice of consultants, the board felt that components of the remuneration needed to be raised to a more competitive level so in 2021 they had agreed to change the shortterm incentive (STI) target (26% fixed remuneration to 40%) and maximum pay out figures (up to 75%), to add environmental social and governance (ESG) components consisting of three metrics and a portion of deferred equity if successful, commencing FY22. We will support these changes. We consider the board composition to be sufficiently diverse and skilled and will support director elections while noting Mr Billings and Mr Robinson's 11 years on the board is reaching a tenure where ASA guidelines consider directors lose independence.
Read the full voting intentions report for GUD here
South32 (S32) AGM  
Buoyant commodity prices have driven a record result for South32 in 2022, with net profit of US$2,669m, more than double that of its previous best year in 2018. Its total dividend from 2022 results of US25.7c (interim dividend 8.7c, final dividend 14c and special dividend 3c) paid as AUD37.08c eclipses the total 2021 dividends of US6.9c/AUD9.3c.
Whilst long, the remuneration report is to be commended for its clarity and layout, making it comparatively easy for the reader to assess the nature and fairness of the remuneration structure. We particularly commend the provision of information on page 84 of the annual report comparing the CEO's fixed and total remuneration with peer groups. We will support the resolutions including the advisory vote on climate change action plan.
Read the full voting intentions report for South32 here
Wesfarmers (WES) AGM  
We are supporting the resolutions at the Wesfarmers' AGM. Overall, Wesfarmers has responded positively to an adverse environment, especially in the first half of the year recovering exceptionally well in the second half. The group is well governed and has also demonstrated the strength of being a conglomerate in that some divisions have performed really well, to offset more disappointing results in the retail businesses during the first half.
Wesfarmers has a strong focus on value-creating strategies and focuses on delivering satisfactory returns to shareholders over the long-term Taken overall, we are in favour of the innovative approach to remuneration taken by WES which is designed to provide incentives in line with strategic objectives and long-term shareholder returns. We would prefer that they would include a table of take-home pay in the annual report, showing the fixed remuneration and value at vesting of any equity awards during the year. While we haven't agreed to disagree on actual remuneration (ASA consider shareholders should be made aware of the figure, and Wesfarmers considers such a take home pay figure as misleading), we will vote open proxies in favour of the remuneration report.
Read the full voting intentions report for Wesfarmers here
Cleanaway (CWY) AGM
We raised the capital raising by placement and SPP with the Chair, Mark Chellew at our pre-AGM meeting, expressing our preference for capital raising by PAITREO (pro rata with rights trading) to be fairest to all shareholders with those shareholders who don't, or can't, participate, receiving compensation for the sale of their entitlements if the rights are able to be sold at a price above the offer price. The SPP was heavily oversubscribed, but scaleback of application was carried out on a pro rata basis. Only 0.8% of valid SPP applicants received less than their pro rata amount because of the $30,000 regulatory cap on applications. We also discussed the need for a board skills matrix that assists shareholders in their voting decisions, as well as the need for a director who amongst other attributes can contribute substantively on addressing of cyber-risks.
Read the full voting intentions report for Cleanaway here
In case you missed it last week
Stockland (SGP) AGM:  Read the full voting intentions report for Stockland here 
Blackmores (BKL) AGM:  Read the full voting intentions report for Blackmores here
 Cochlear (COH) AGM:  Read the full voting intentions report for Cochlear here
Endeavour (EDV) AGM:  Read the full voting intentions report for Endeavour here 
Transurban (TCL) AGM: Read the full voting intentions report for Transurban here 
Perpetual (PPT) AGM:  Read the full voting intentions report for Perpetual here 
Credit Corp Group (CCP) AGM:  Read the full voting intentions report for CCP here 
Treasury Estate Wines (TWE) AGM: Read full voting intentions report for TWE here
Brambles (BXB) AGM:  Read the full voting intentions report for BXB here