By Fiona Balzer, Policy and Advocacy Manager, and Damien Straker, Advocacy Coordinator
1 September 2022
We have our first AGM brickbat of the main-AGM season of 2022!
To Commonwealth Bank (CBA) for choosing to hold a physical meeting with a webcast, rather than a hybrid meeting (a physical meeting with a virtual meeting where shareholders attending virtually can ask questions and vote either online or by phone). Only a fraction of the 870,000 shareholders can fit into Melbourne Cricket Ground, the venue for the AGM.
It is very disappointing that those shareholders who can't attend in person, for whatever reason, will be unable to ask questions after hearing the CEO and Chair address, or to vote in response to anything they hear on the day.
We even met with CBA in case we misunderstood the Notice of Meeting – but they appear committed to their chosen format for 2022.
Our ASA representative will be taking directors to task on the decision at our pre-AGM meeting.
And we will have a representative attending the AGM in person in Melbourne, so you can send your last-minute questions to share@asa.asn.au with the subject, Last minute question for CBA AGM for the team to look at. We can't promise all late questions will be asked, but we will consider them.
ASA has held its own AGMs in hybrid format since 2017 (except for the two virtual-only meetings held in 2020 and 2021 when in-person gatherings were unable to take place due to COIVD-19.) Because we want to enable greater participation by our members.
Collins Foods and Webjet managed to hold a hybrid shareholder meeting in 2022.
Upcoming company meetings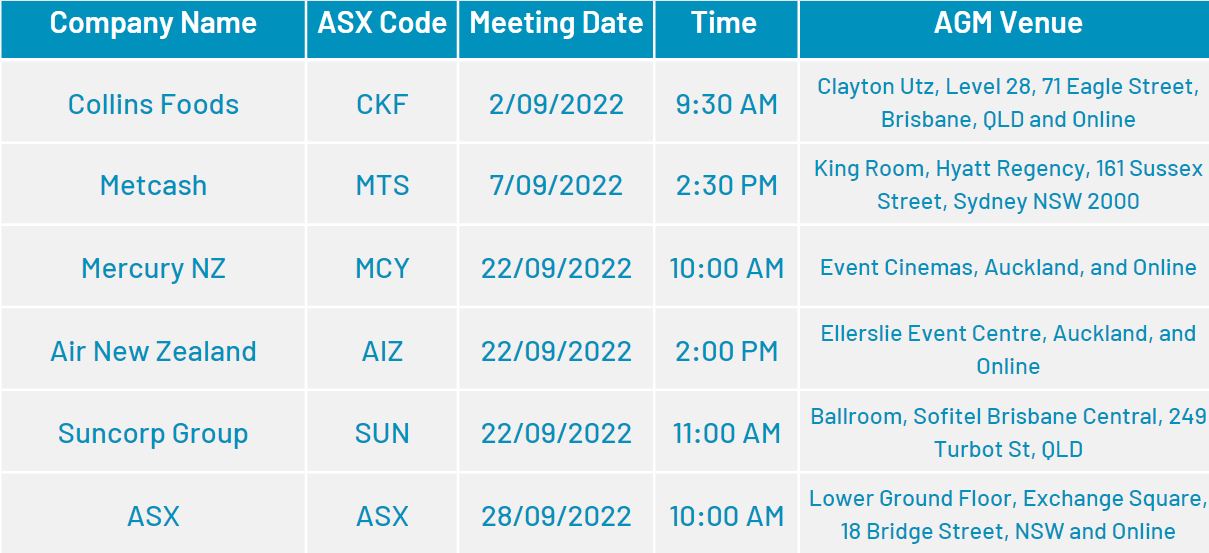 Voting intention reports are generally available on the website two weeks prior to the AGM being held.
Metcash (MTS) 
Shareholders should be pretty pleased with their Metcash shares when they attend the AGM. The shares have delivered a strong shareholder return with the share price and dividend up significantly in each of the past two years.
While growth was slower than when compared to 2021, 2022 saw revenue increase by 6.4% to $17.4bn and earnings before interest and tax up by 17.7% to $472m. The CEO and Chairman have both retired and Metcash has installed satisfactory replacements. The remuneration report still has some of the problems identified last year, but it has improved, and we shall vote for it as well as for the other resolutions.
Our only disappointment is the AGM is not going to be held as a hybrid meeting. The physical meeting will take place at the Hyatt Regency Sydney, and those shareholders who are unable to attend in-person can listen to the meeting via telephone. There is no opportunity to ask questions or vote other than by attending the in-person meeting or lodging a proxy by 2.30pm on 5 September or by submitting questions by email by 31 August – the week prior to the meeting.
Read more on Metcash AGM here. 
The full list of upcoming AGMs can be found here.