By Damien Straker, Research and Advocacy Coordinator, ASA
25 May 2023
The Australian Shareholders' Association (ASA), announced the recipients of its second ASA Awards at its 2023 Investor Conference in Sydney recently, highlighting ASX companies for peak governance standards and its own volunteer members, Australian investors contributing to the not-for-profit organisation.
The announcement, which was made at our Conference Gala Dinner on Thursday, 11 May 2023, represents the second time ASA has awarded ASX-listed companies and its volunteers with the below awards. We are also pleased to have refined our awards criteria and launched a webpage to further promote the ASA Awards.
The webpage outlines past and present winners, as well as the voting criteria for the awards themselves. You can read the information here.

Most Effective Shareholder Communication Award – Woolworths Group Ltd (ASX: WOW)
This company award is determined by a company's initiatives to be transparent with its shareholders. When choosing a nominee, we asked our monitors to consider if the company arranged pre-AGM sessions, provided plain-English company reporting, and offered hybrid shareholder meetings to increasing attendance and participation.
Having monitored Woolworths we can speak in detail about our interactions with the board and the quality of reporting. QLD monitors were asked to attend the Woolworths AGM, which was held in Brisbane rather than Sydney. We found the annual reports were much easier to comprehend than other companies we have monitored.
The remuneration report in particular was very easy to understand and is now a benchmark for clarity and transparency when reviewing other rem reports.
Kate Eastoe, Group Company Secretary & Group Counsel at Woolworths Group, stated:
"We are thrilled to be recognised by the Australian Shareholders' Association for our efforts to provide transparency, clarity, and connection for our shareholders. We look to continuously improve our reporting for all stakeholders, and genuinely appreciate the feedback provided by shareholders as we prepare our F24 reporting materials".
The finalists were:
Wesfarmers Limited (ASX: WES), Woolworths Group Limited (ASX: WOW), Commonwealth Bank of Australia (CBA)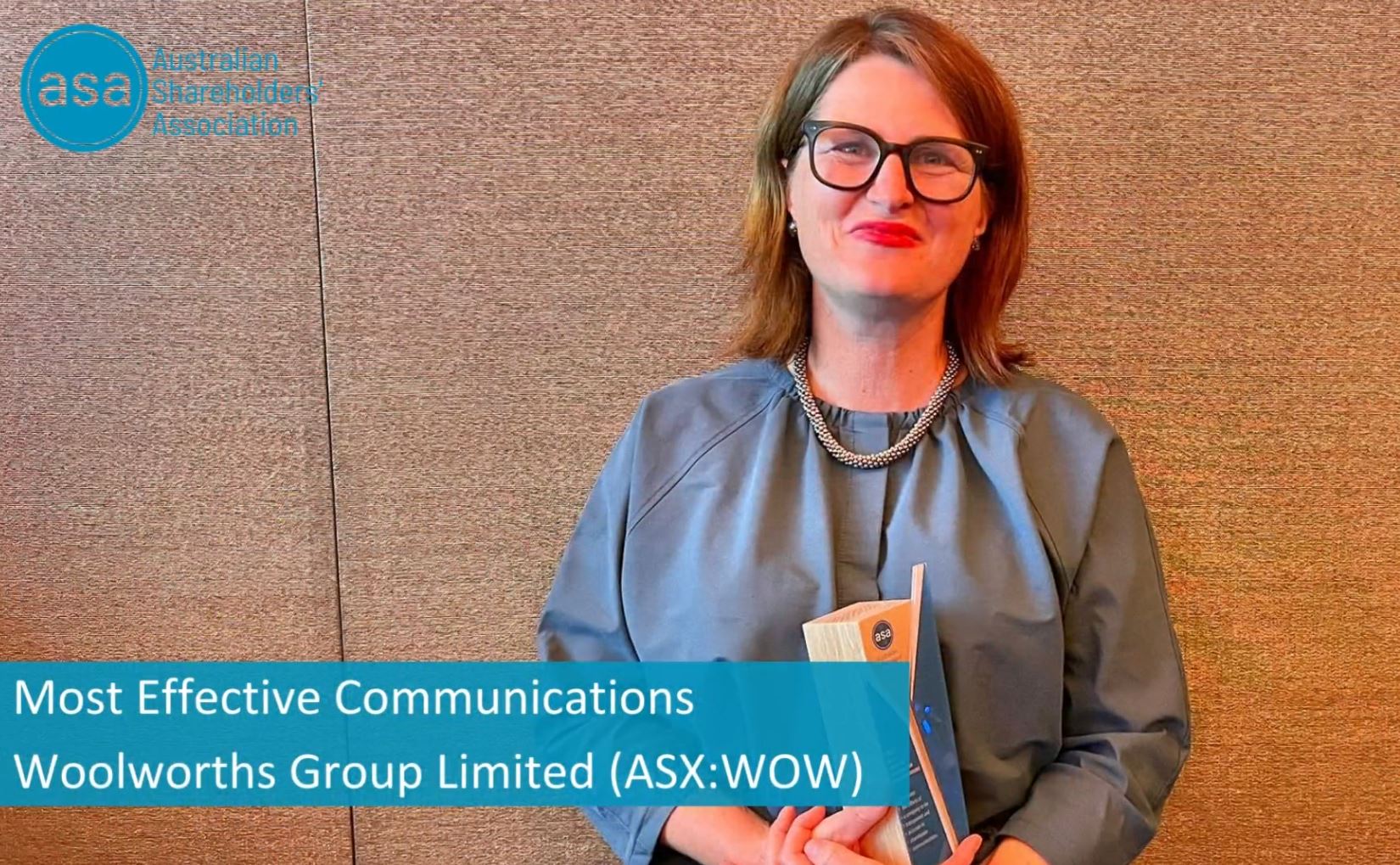 "
Enhanced Company Governance – Northern Star Resources (ASX:NST)
This company award is attributed to a company that has lifted the quality of its corporate governance.
When choosing a nominee, we asked our monitors to consider whether the company has modified its remuneration structure or shown an ongoing commitment to improving its risk management and performance, including Environmental Social Governance (ESG) issues, such as reducing carbon emissions.
Following a merger, significant changes occurred on the Northern Star board led by newly appointed Independent Non-Executive Director, chairman Michael Chaney AO who replaced the former Executive Chairman Bill Beament effective 1 July 2021.
The board changes reflected the enlarged merged entity and NSTs' low risk profitable growth strategy. New board members brought to the NST board additional high-level mining, financial, risk management & sustainability skills plus experience relevant to the resources & mining sector. 63% of NSTs board of directors are Male & 38% Female.
88% are independent non-executive directors (NED). A comprehensive annual board of directors' performance review, including the appointment and input of independent external governance specialists, was completed FY22. Considering the changes at board level, NST now comply with all recommendations under the 4th edition of ASX Corporate Governance Council Corporate Governance Principles and Recommendations.
Upon receiving this award, Northern Star Resources Ltd's Chief Legal Officer & Company Secretary, Hilary Macdonald said:
"Northern Star Resources is delighted to receive the ASA Enhanced Company Governance award from the Australian Shareholders' Association.
"Like the ASA, best practice governance standards are at the heart of our Purpose, which is to generate superior returns for our shareholders, while providing positive benefits for our stakeholders, through operational effectiveness, exploration and active portfolio management.
"It is pleasing that our focus on the Board skills and evaluation process, the depth of our Sustainability Reporting and the rigour applied to our ESG disclosures has been recognised in this way".
The finalists were:
AGL Energy (ASX: AGL), Elders Limited (ASX: ELD), Northern Star Resources (NST).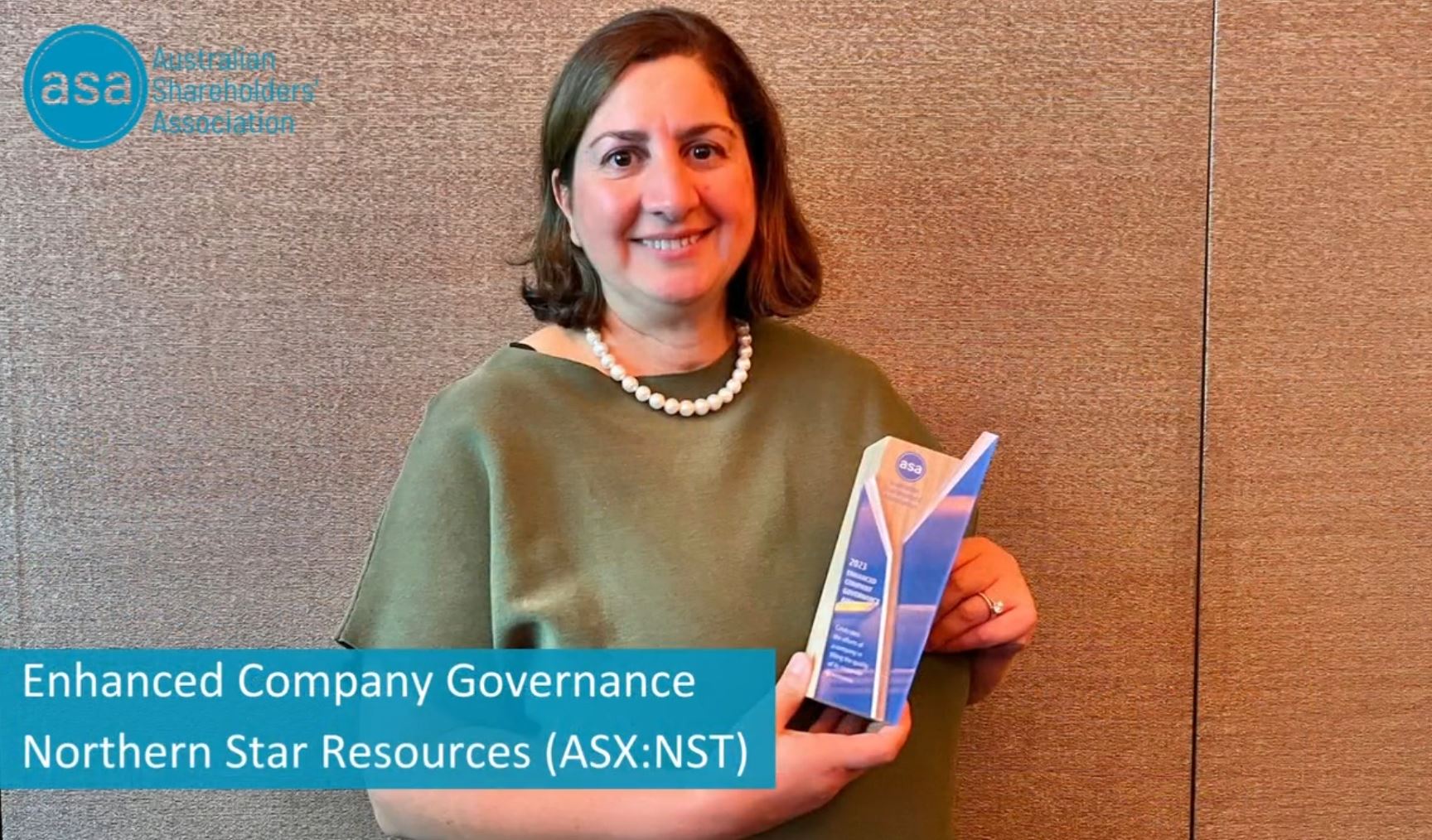 "